21951356 Impeller kit Volvo.Penta
AD30A; AQAD30A; MD30A, AD31L-A; AD31P-A; AD41L-A, AQD70D; TAMD70D; TAMD70E, D4-180I-B; D4-180I-C; D4-180I-D, D4-180I-F; D4-225A-F; D4-225I-F, D5A-T; D5A-TA; D5A-B TA, D5A-T; D5A-TA; D5A-B TA, D70CHC; D70CRC; TD70CHC, KAD32P; TAMD42WJ-A; KAD43P-A, KAD
Impeller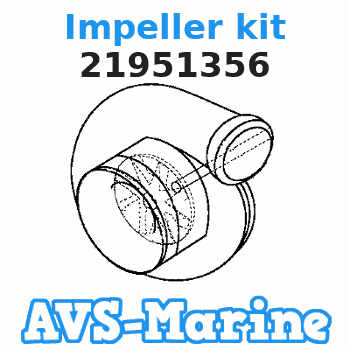 Buy
Impeller kit 21951356 Volvo Penta
genuine, new aftermarket parts with delivery
You can buy parts:
Pasotim Rubber-Water Pump Impeller Kit for Volvo Penta 875593-6 877061 3841697 21951356 Engine Parts
Fit for Volvo Penta crude oil Engines. || Durable, stable, convenient. || 100% brand new, high quality. || A perfect aftermarket replacement. || Easy to install.
Marine water pump flexible rubber impeller For VOLVO 877061 875593 3841697 21951356
Marine Grade Quality Replacement Parts for Volvo Penta Diesel Engines.Replaces Volvo Penta P/N: 875593-6 877061 3841697 21951356 || Passend for folgende Motoren:TMD30A,TMD31A/B/D, TMD31L-A, TMD31L-A,TMD40A/B/C,TMD41A/B/D; TMD41L-A, TMD41L-A; TMD70B/C,TAMD30A,TAMD31A/B/D/S, TAMD31L-A; TAMD31M-A; TAMD31P-A,TAMD40A, TAMD41A/B/D, TAMD41H-A; TAMD41L-A; TAMD41M-A; TAMD41P-A;TAMD42WJ-A,TAMD60A/B/C,TAMD70B/C/D/E,THAMD70B/C || Passend for folgende Motoren: MD30A, MD31A/B,MD32A,MD40A/B,MD70B/C,AQAD30A, AQAD31A,AQAD40A/B; AQA41A,AQD40A, AQD41A,AQD30, AQD32A; AQD40A; AQD41A,AQD70B/C/D,AQD140A/B,AD31A/B/D/XD, AD31P/L-A, AD41A/B/D, AD41P/L-A || Passend for folgende Motoren:D41A/D, D41L-A, D41A,KAD32P-A, KAD42A/B,KAD42P-A, KAD43P-A, KAD44P-A, KAD44P-B, KAD44P-C, KAD44P-C,KAD300A,KAMD42A/B, KAMD42P-A, KAMD42P-A, KAMD43P-A, KAMD44P-A,KAMD44P-B, KAMD44P-C,KAMD300A, KAMD300 || Tip: Water Pump Impeller Kit includes gasket, o-ring and plug. Please confirm the replacement part number before purchase to ensure that our products are suitable for you. If you have any questions, please in time to contact our staff and we will respond to your email within 24 hours.
Chuury Impeller for Johnson 09-1028B Sherwood 18200 Flexible Impeller for Yanmar 12760-42200 Jabsco 920-0001-P Inboard Engines
⭐Replacement: This is Top Quality Aftermarket Outboard Water Pump Impeller. Replacement for JABSCO 920-0001 ,JOHNSON 09-1028B,SHERWOOD 18200K, CEF 500106, Replacement for VOLVO PENTA 877061-2 ,875593-6, 3841697, 21951356, KASHIYAMA SP70/SPM70, NIKKISO F20CBC, YANMAR 123325-42020, 127610-42200, 120650-42310, JMP 7400, DJ PUMP 001-0801. || ⭐Notice: Please properly verify the Year/Make/Model before purchasing. || ⭐Features: The impeller pumps cold water into your boat's engine to cool it during use. The water pump impeller is very important to your outboard engine. || ⭐Easy to install:This water pump impeller is easy to install, but professional installation is always recommended. || ⭐Ship from USA: Orders will be processed under 24 hours.
Volvo Penta entire parts catalog list:
AD30A; AQAD30A; MD30A; TAMD30A; TMD30A; AD30; AQAD30; MD30; TAMD30; TMD30
AD31L-A; AD31P-A; AD41L-A; AD41P-A; D41L-A; TAMD31L-A; TAMD31M-A; TAMD31P-A; TAMD31S-A; TAMD41H-A; TAMD41H-B; TAMD41P-A; TAMD41L-A; TAMD41M-A
AQD70D; TAMD70D; TAMD70E
D4-180I-B; D4-180I-C; D4-180I-D; D4-180I-E; D4-210A-A; D4-225A-B; D4-210I-A; D4-210I-B; D4-225I-B; D4-225A-C; D4-225A-D; D4-225I-C; D4-225I-
D4-180I-F; D4-225A-F; D4-225I-F; D4-260A-F; D4-260D-F; D4-260I-F; D4-300A-F; D4-300D-F; D4-300I-F
D5A-T; D5A-TA; D5A-B TA; D7A-T; D7A-TA; D7A-B TA
D5A-T; D5A-TA; D5A-B TA; D7A-T; D7A-TA; D7A-B TA; D7C-TA; D7C-B TA
D70CHC; D70CRC; TD70CHC; TD70CRC
KAD32P; TAMD42WJ-A; KAD43P-A; KAMD43P; KAMD43P-A; KAMD43P-B; KAD44P; KAD44P-B; KAD44P-C; KAMD44P-A; KAMD44P-C; KAD300-A; KAMD300-A; HS1A; HS1E
KAD42P-A; KAMD42P-A; HS1A
MD100A; TMD100A; TMD100AK; TMD100A-CC; MD100B; MD100BK; MD100B-CC
MD120A; MD120AK; TMD120A; TMD120AK; TAMD120A; TAMD120AK; TMD120B; TAMD120B; TAMD120B-CC
MD31A; TMD31A; TMD31B; TAMD31A; TAMD31B; AD31; AQAD31A; AD31B; 290A; DP-A; DP-B; DP-A1; DP-B1; SP-A; SP-A1
MD40A; TMD40A; TMD40B; TMD40C; AQD40A; TAMD40A; TAMD40B; AD40B; AQAD40A; AQAD40B
MD70B; MD70BK; TMD70B; THAMD70B; TAMD70B; AQD70BL; AQD70B
MD70C; TMD70C; TAMD70C; THAMD70C; AQD70BL; AQD70CL
TAMD60A; TAMD60B
TAMD60C
TMD41A; TMD41B; D41A; D41B; TAMD41A; TAMD41B; AQAD41A; AD41A; AD41B; 290A; DP-A; DP-B; DP-A1; DP-B1; SP-A; SP-A1; AD41BJ; AD41; AD41P-B; D41; TAMD41
Parts impeller Volvo Penta: