3812693 Pump Volvo.Penta
3.0GSPBYCCE; 3.0GSPEFS; 3.0GSMEFS, 4.3GLPEFS; 4.3GiPEFS, 4.3GXi-A, 4.3GXi-B; 4.3GXi-BF; 4.3OSi-B, 4.3GXi-C; 4.3GXi-CF; 4.3GXi-D, 4.3GXi-E; 4.3GXi-EF; 4.3OSi-E, 5.0GLPEFS; 5.0GiPEFS; 5.7GSPEFS, 5.0GXi-A; 5.7Gi-A; 5.7GXi-A, 5.0GXi-B; 5.0GXi-BF; 5.0OSi-
Pump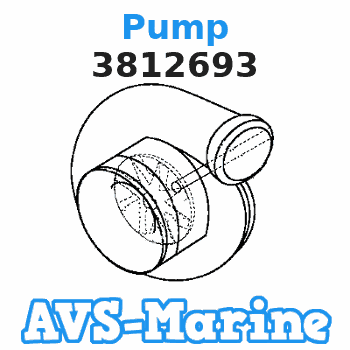 Buy
Pump 3812693 Volvo Penta
genuine, new aftermarket parts with delivery
You can buy parts:
As an associate, we earn commssions on qualifying purchases through the links below
Goodbest New Water Pump Compatible with Volvo Penta V6 V8 4.3 5.0 5.7L Replace # 21214599 3862482 3812693
Goodbest New Water Pump Compatible with Volvo Penta V6 V8 4.3 5.0 5.7L || Replace # 21214599 3862482 3812693
Water Pump Sea Crank Mounted 21214599 replacement for Volvo Penta 4.3L 5.0L 5.7L Engines with Serpentine Belt Pulley Raw Sea Water Impeller Pump 3812693,3862482
Replaces Part numbers: 21214599, 3812693, 3862482,Direct replacement of raw water pump that may have worn. || Crank Mounted Sea Water Pump: replacement for Volvo Penta V6 & V8 Engines 4.3 5.0 5.7 with serpentine belt pulley sea impeller raw pump prior to 2005.Tips: Does not fit 3.0 4-cylinder engine. || High-quality Material:It is made of heavy-duty steel and copper, with strong anti-corrosion and anti-rust effect, and the surface is smooth and visible without additional treatment. Less air leakage and long service life. || Raw water engine cooling pump:is the heart of the marine engine,With this water pump, the liquid enters the rapidly rotating impeller and is thrown out under the action of centrifugal force; then the hot water in the engine is pumped into the water tank to make the engine run normally and ensure that the engine is not in a high temperature state. || About Service:The CARMOCAR customer service period is 1 year.Note: Please check the display pictures and OEM to see before purchase.If there is any problem in use, Please contact us at any time, we will respond within 24 hours.
YSMN Sea Water Pump Serpentine Belt Pulley Impeller Replacement for Volvo Penta 4.3L 5.0L 5.7L 21214599 3812693 3862482
Reliable quality - Made of sturdy metal, heat resistance, water erosion resistance and wear resistance || Good working performance - To push fluids to and from work stations and machinery at higher pressure and speed || Longer service life - Hard material, strong water impact resistance, stable operation || Easy to install - The installation process is similar to the original parts, and the installation is convenient and fast || Adaptability - Replacement for Volvo Penta engines 4.3, 5.0, 5.7 prior to 2005
Volvo Penta entire parts catalog list:
3.0GSPBYCCE; 3.0GSPEFS; 3.0GSMEFS
4.3GLPEFS; 4.3GiPEFS
4.3GXi-A
4.3GXi-B; 4.3GXi-BF; 4.3OSi-B; 4.3OSi-BF
4.3GXi-C; 4.3GXi-CF; 4.3GXi-D; 4.3GXi-DF; 4.3OSi-C; 4.3OSi-CF; 4.3OSi-D; 4.3OSi-DF
4.3GXi-E; 4.3GXi-EF; 4.3OSi-E; 4.3OSi-EF
5.0GLPEFS; 5.0GiPEFS; 5.7GSPEFS; 5.7GSIPEFS
5.0GXi-A; 5.7Gi-A; 5.7GXi-A; 5.7GXi-B; 5.7GiI-A; 5.7GSiI-A; 5.7GXiI-A; 5.7GXiI-B
5.0GXi-B; 5.0GXi-BF; 5.0OSi-B; 5.0OSi-BF; 5.7Gi-B; 5.7Gi-BF; 5.7GXi-C; 5.7GXi-CF; 5.7GiI-B; 5.7GXiI-C; 5.7OSi-A; 5.7OSi-AF; 5.7OSXi-A; 5.7OSX
5.0GXi-C; 5.0GXi-CF; 5.0GXi-D; 5.0GXi-DF; 5.0OSi-C; 5.0OSi-CF; 5.0OSi-D; 5.0OSi-DF
5.0GXi-E; 5.0GXi-EF; 5.0OSi-E; 5.0OSi-EF
5.7Gi-C; 5.7Gi-CF; 5.7Gi-D; 5.7Gi-DF; 5.7GiI-C; 5.7GiI-D; 5.7GXi-D; 5.7GXi-DF; 5.7GXi-E; 5.7GXi-EF; 5.7GXiI-D; 5.7GXiI-E; 5.7OSi-B; 5.7OSi-BF
5.7Gi-E; 5.7Gi-EF; 5.7GiI-E; 5.7GXi-F; 5.7GXi-FF; 5.7GXiI-F; 5.7OSi-D; 5.7OSi-DF; 5.7OSXi-D; 5.7OSXi-DF
Parts pump Volvo Penta: