74639A 2 BELLOWS ASSEMBLY, SHIFT ACTUATING CABLE Mercruiser
00019003, 01321017, 01326013, 5000150DP, 5000165CE, 5120150R1, 5231100LP, 5231100TP, 5232100N1, 5232100TP, 5E31200N1, 5E31200TP, 5E31200TS, 5E31210TP, 5E31210TS, 5E31800TP, 5E31800TS, 5E31810TP, 5E31810TS, 5E31900TP, 5E31900TS, 5E31910TP, 5E31910TS,
BELLOWS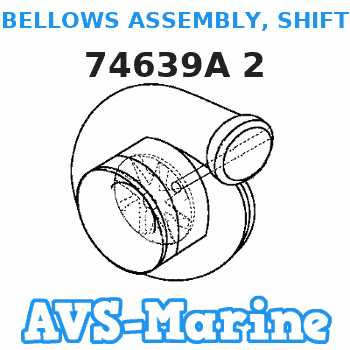 Buy
BELLOWS ASSEMBLY, SHIFT ACTUATING CABLE 74639A 2 Mercruiser
genuine, new aftermarket parts with delivery
You can buy parts:
As an associate, we earn commssions on qualifying purchases through the links below
Bellows Kit Fits Mercruiser Alpha One, R, MR #1 Kit 74639A2 60932A4 18654A1
This Bellows Kit is for MerCruiser Alpha One, R, MR Engines || Shift Cable Bellow replaces 74639A2 Exhaust Bellow replaces 18654A1 U-Joint bellow replaces 60932A4 || Fits: Alpha One (gen 1) up to 1990 225/233 Drives from 1974-1977 || Serial 3856268 and up 898 / 228 / 250 / 260 Drives from 1977-1982 serial no. 4782330-6225576 R/MR Drives from 1973-1990 || Engineered for the Longest Possible Use under tough conditions.Cooperated with local workshops,quality is guaranteed.
Transom Bellows Repair Reseal Kit, 18‑8206 Good Exhaust Performance Leakproof Perfect Fit Replacement for MerCruiser One 1 Gen 2 for Stern Drives
Part Number: U joint bellows assembly (replaces 816431A1); Exhaust bellows (replaces 32734A3, 18654A1); 3/4in water hose (replaces 32‑41725, 32‑41725‑33); Shifting cable bellows (replaces 74639, 74639A2). || Applicable Model: Transom bellows repair reseal kit, wonderful replacement for MerCruiser one 1 Gen 2 Transom Bellows Repair Reseal Kit 30‑803099T1. Replacement for Sierra 18‑8206. || Complete Repair Kit: Outboard transom service kit with bellows, water hoses, seals, gaskets, hose clamps and gimbal bearing to efficiently rebuild your stern drives. || Durable Material: Made of high quality rubber and metal with OEM specification, which is perfect fitment and durable to use and also can prevent cracking and leaking. || Better Exhaust Performance: Manufactured to meet standard specification, better exhaust performance for your outboard engine exhaust, it is resistant to seawater erosion and has a long service life.
The ROP Shop | Alpha 1 Bellows Repair Kit for Sierra 74639A2, 74639 Shift Cable Bellows Engine
The ROP Shop replacement Alpha 1 Bellows Repair Kit for Sierra 74639A2, 74639 Shift Cable Bellows Engine || Specs - Refer to images 2 & 3 for more information || Includes - (1) Shift Cable Bellow w/Clamps, (1) Exhaust Bellow w/Clamps, (1) U-Joint Bellow w/Clamps, (1) Sealed Gimbal Bearing, (2) 5/8in Water Intake Hoses, (1) Zip Tie & (1) Mounting Gasket Kit with O-Rings; comes as shown in the first image || Fits/For R, MR, Alpha I (1983-1990) s/n 6225577 & UP and Alpha I SS (1986-1989) s/n 0A545004 & UP || Please be sure to check your part or model number to ensure this is the correct Alpha 1 Bellows Repair Kit for your unit. Also, please note this may replace multiple parts numbers
Mercruiser entire parts catalog list:
00019003
1983,1984,1985,1986,1987,1988,1989,1990
01321017
1987
01326013
1983
5000150DP
1991,1992,1993,1994,1995
5000165CE
1990,1991
5120150R1
1998
5231100LP
1998
5231100TP
1998
5232100N1
1998
5232100TP
1998
5E31200N1
1998
5E31200TP
1998
5E31200TS
1998
5E31210TP
1998
5E31210TS
1998
5E31800TP
1998
5E31800TS
1998
5E31810TP
1998
5E31810TS
1998
5E31900TP
1998
5E31900TS
1998
5E31910TP
1998
5E31910TS
1998
5E32200TP
1998
5E32900TS
1998
5E36200TP
1998
5E36200TS
1998
5E36210TP
1998
5E36210TS
1998
5E36800TP
1998
5E36800TS
1998
5E36810TP
1998
5E36810TS
1998
5E36900TS
1998
5E36910TP
1998
5E36910TS
1998
5H41400TP
1998
5H41410TP
1998
5H41410TS
1998
5H41600TP
1998
5H41610TP
1998
5H41610TS
1998
5H42300TP
1998
5H42300TS
1998
5H42400TS
1998
5M41400TP
1998
5M41400TS
1998
5M42300TP
1998
5M42300TS
1998
5S21800TS
1998
5T32300TP
1998
5T32300TS
1998
5X32200TS
1998
6211001N1
1998
6311002NZ
1998
6315001N1
1998
6315002NZ
1998
6416003N2
1998
6511102N1
1998
6811001N1
1998
Parts bellows Mercruiser: