19543A 8 CABLE ASSEMBLY, Shift Mercruiser
00019003, 01321017, 01326013, 5000165CE, 5111200LP, 5220200AS, 91331015
CABLE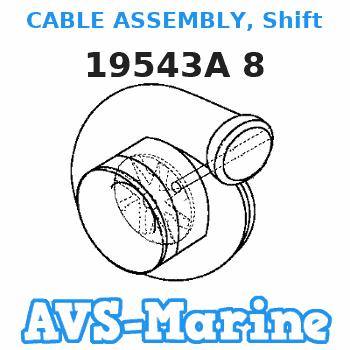 Buy
CABLE ASSEMBLY, Shift 19543A 8 Mercruiser
genuine, new aftermarket parts with delivery
You can buy parts:
As an associate, we earn commssions on qualifying purchases through the links below
Jingyu Replace MERCRUISER Shift Cable Assembly Kit Alpha One Gen I II Mercury Part Number: 865436A03;Sierra Part Number: 18-2603;GLM Part Number: 21450
Designed for Mercruiser outdrives || Compatible with the following motors: MC-I, MR, Alpha,Alpha One Gen I and II || Interchangeable with Mercruiser 865436A02 19543A10 19543A8 GLM 21451 Sierra 18-2603 Mallory 9-72100 || High-quality and reliable || Net weight: 339g Package weight: 444g
For Mercruiser Alpha Gen One & Two 1 2 MR MC 1978 & Newer Lower Shift Cable Kit 865436A02
Fitment -- Fits for Mercruiser Stern Drives All MC-l, MR, Alpha One and Alpha 1 Gen 2 1978 & Newer. || Direct Replacement -- Interchanges with part number 865436A02, 19543A10, 19543A8, and replaces for Sierra 18-2603, for GLM 21451, for Mallory 9-72100 both in function and performance. || Package Includes -- This Lower Shift Cable Kit includes the inner cable, the outer cable, anchors, and cable ends. And also includes all hardware required: Slide, Screws, Guide, Anchor, Wrapping & Insert. || Function -- Used to replace old and damaged cables. Designed for long life and best performance in all weather conditions (below zero Fahrenheit). || Superior Material -- Made of high quality Rubber, steel, copper, plastic. Using layered technical structure to create a smooth and durable control cable. CNC process precision manufacturing, sturdy and durable, impact-resistant, corrosion-resistant for a long-term and reliable performance.
WFLNHB Transom Seal Bellow Repair Kit with Lower Shift Cable Replacement for Mercruiser Alpha One SEI 865436A02 19543A10 19543A8 18-2603
Kit contains cable, o-rings, gaskets, connectors and bellows replacement for Mercruiser || Lower shift cable replacement for: Mercruiser Quicksilver 865436A02, 19543A10, 19543A8, Sierra 18-2603 || Replace part number: 30-803097T1 || Easy to install and reliable to use, professional installation is recommended || High quality aftermarket parts
Mercruiser entire parts catalog list:
00019003
1983,1984,1985,1986,1987,1988,1989,1990
01321017
1987
01326013
1983
5000165CE
1990,1991
5111200LP
1998
5220200AS
1988
91331015
1985,1986,1987
Parts cable Mercruiser: