19543A 8 CABLE ASSEMBLY, Shift Mercruiser
00019003, 01321017, 01326013, 5000165CE, 5111200LP, 5220200AS, 91331015
CABLE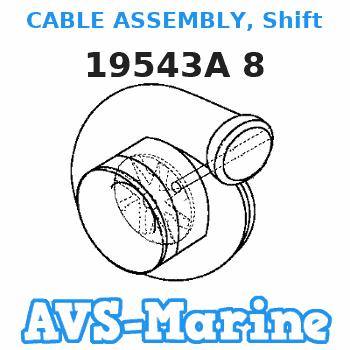 Buy
CABLE ASSEMBLY, Shift 19543A 8 Mercruiser
genuine, new aftermarket parts with delivery
You can buy parts:
As an associate, we earn commssions on qualifying purchases through the links below
V G Parts Mercruiser Transom Rebuild Service Kit with Gimbal Bearing, Shift Cable, u-Joint, Shift, and Exhaust Bellows for Mercruiser Alpha 1 One Gen II 2 sterndrive inboard/Outboard
Transom service kit with lower shift cable, gimbal bearing, gaskets, exhaust bellow, u-joint bellow, and shift cable bellow for 1991 to present Alpha sterndrives || Fits Serial numbers for Gen 2 outdrives 1991 thru 1995 – 0D469859 Thru 0F679999, 1996 thru 1997 – 0F680000 Thru 0K999999, 1998 and Up – 0L100040 And Up || Gimbal Bearing with housing and tolerance ring. Driveshaft Bellow. Exhaust Bellow. Shift Cable Bellow. Screw Clamps. 3/4" water hose 5/8" water hose All clamps Mounting Gasket. O-Rings. Replaces OEM # 30-803097T1 Alpha Cable: || OEM # Includes 33981T1 Slide / 10-31700 Set Screw / 43433 Guide / 43436 Anchor / 10-20518 Set Screw / 38473 Wrapping / 14705 Insert / 21464 S.S. Wire / 41951A1 Shift Cable || Alpha Lower Shift cable Replaces: Mercruiser/Quicksilver 865436A02 / Mercruiser/Quicksilver 19543A10 / Mercruiser/Quicksilver 19543A8 / GLM 21451 / Sierra 18-2603 / Mallory 9-72100
Bzsunway Lower Shift Cable Kit 865436A02 for MerCruiser Alpha Gen One & Two 1 2 MR MC
【Fitment】For MerCruiser All MC-l, MR, Alpha One & Two 1978 & Newer || 【Replacement Part】 865436A02/19543A10 /19543A8/ Sierra 18-2603/GLM 21451/Mallory 9-72100. || 【Included Items】 Kit contains inner and outer cable, anchor, slide, screws, cable end guide tube, wrapping & Insert. || 【High Performance】 Replace your old and damaged hardware to ensure that your boat trips and travel are safer and have higher performance, and extend the life of your boat. || 【Satisfactory service】If you are not satisfied with our products.You can request a full refund within 30 days to support a 12 month warranty.Professional and sincere service allows you to purchase without risk !
The ROP Shop | Lower Shift Cable Assembly with Slide for Mercury, Mercruiser 19543A8 Sterndrive
The ROP Shop replacement Lower Shift Cable Assembly with Slide for Mercury, Mercruiser 19543A8 Sterndrive || Specs - Conduit: 63". Refer to images 2 & 3 for more information || Includes - (1) Shift Cable Assembly with Slide, Screws, Guide Anchor, Wrapping & Insert; comes as shown in the first image || This cable is built for long life and maximum performance in all weather conditions to below zero Fahrenheit. It employs layered technology structure to create a smooth operating & durable control cable || Has old style stranded core wire with soldered tip (uses support tube)
Mercruiser entire parts catalog list:
00019003
1983,1984,1985,1986,1987,1988,1989,1990
01321017
1987
01326013
1983
5000165CE
1990,1991
5111200LP
1998
5220200AS
1988
91331015
1985,1986,1987
Parts cable Mercruiser: