19291A 3 BEARING CARRIER ASSEMBLY Mercury
1031203PD, 1031203UB, 1031203UD, 1031207ZF, 1031312DB, 1040213YL, 1041312UB, 10432037D, 1043203DD, 1043203VD, 1043213DD, 1043302DD, 1043411DD, 1043412DB, 1043412DD, 1050302DB, 1050302FB, 1050302FD, 1050302SD, 1050312FB, 1050312LD, 1050411DD, 1050412D
BEARING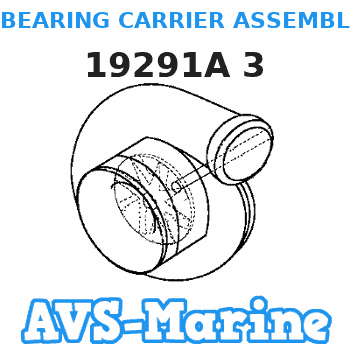 Buy
BEARING CARRIER ASSEMBLY 19291A 3 Mercury
genuine, new aftermarket parts with delivery
You can buy parts:
As an associate, we earn commssions on qualifying purchases through the links below
Bearing Compatible with Carrier Assembly Compatible with Mercury 60HP 19291A3 19291A1 19291A2 9-72600

MAREEYA SHOP Mercury Marine Mercruiser New OEM Carrier Assy 19291A3
Genuine Mercury Marine/Mercruiser CARRIER ASSY. || This is a factory original equipment item, not aftermarket. || Sold each. || SKU#: 19291A3 || Please verify your own fitment.
Sierra 18-2370 Marine Carrier Bearing for Chrysler Force Outboard Motor
Interchangeable with the following: Chrysler/Force/US Marine 19291A3, Mallory 9-72600, Mercury 19291A3, 19291A2, 19291A1. Each Sierra product meets or exceeds the original equipment part it replaces. || Sierra Bearing Carrier || Meets or exceeds the original equipment quality || Interchangeable with the following: Chrysler/Force/US Marine 19291A3, Mallory 9-72600, Mercury 19291A3, 19291A2, 19291A1
Mercury entire parts catalog list:
1031203PD
1994,1995,1996,1997,1998,1999
1031203UB
1998,1999,2000,2001,2002,2003,2004
1031203UD
1998,1999
1031207ZF
2002
1031312DB
2005,2006
1040213YL
2001,2004
1041312UB
1998
10432037D
1997,1998
1043203DD
2005
1043203VD
1999,2000,2001,2002,2003,2004
1043213DD
2005
1043302DD
2005
1043411DD
2005
1043412DB
2005
1043412DD
2005
1050302DB
2005
1050302FB
2006
1050302FD
2006
1050302SD
1996,1997
1050312FB
2006
1050312LD
1991,1992,1993,1994,1995,1996
1050411DD
2005
1050412DB
2005
1050412DD
2005,2006
1050412FB
2006
1050412FD
2006,2010
1055207DB
2005,2006
1055207UD
1998
1055207VB
1999,2000,2001,2002,2003,2004
1A30302ZB
2002,2003,2004,2005
1A40302FD
2006
1A40302HZ
2006,2010
1A40303KZ
2010
1A40311FZ
2006
1A40311HZ
2006
1A40403HZ
2006,2010
1A40412HZ
2006
1A41412ZB
2002,2003,2004,2005,2006
1A41452EZ
2006
1A41452FU
2006
1A51411HZ
2006
1A51412HZ
2006
1A51452EZ
2006
1A60351EZ
2007
1A60412HZ
2006
1A60452EZ
2006
1A60452HZ
2006
1A60463EZ
2007
1A6C411KZ
2009
1A6C413KZ
2009
1B25203ZB
2002,2003,2004,2005,2006
1E41412HB
2006
1E41452HB
2006
1E51412HB
2006
1E51412HZ
2006
1E60403HZ
2006
1E60412HZ
2006
1E60413KZ
2009
1E60452HB
2006
1F25201UD
1998
1F25203VD
1999,2000,2001
1F30203VD
1999,2000,2001
1F30203ZB
2002,2003,2004,2005
1F40203FD
2006
1F40203HZ
2006
1F40213FZ
2006
1F40452YB
2001
1F41452YD
2001,2002
1F50352VD
1999,2000
1F50412RD
1995,1996,1997,1998
1F51452YB
2001
Parts bearing Mercury: